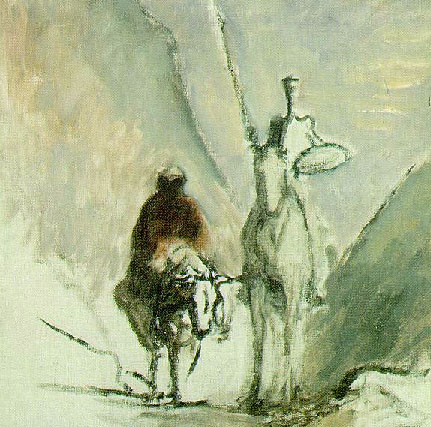 He may be one of the most famous characters of all times. He fascinated generations and generations of readers with his extraordinary adventures which existed only in his mind. But who was Don Quixote after all? A skinny old man with a rather peculiar view of the world (just not to call him a little mad). But maybe these characteristics allow him to give us some valuable lessons of life, lessons about being ourselves after all!
Don't be afraid to be a little different…or maybe more. Don Quixote went out in the world wearing something that looked like an armor and riding maybe the funniest-looking horse in history. He was immune to anything the others would say and to their mockery as he had a goal to reach- to be the best knight ever. There is of course a huge difference between being different and being silly. However, in this uniform world where everyone acts following the same pattern and cares about the same fashions the ones who break the barriers may be the losers but are definitely the ones to remain in history. Don't break the rules just to show you are tough or a badass, try to break the thought rules, try to change the world to suit you and not to adapt totally to something that does not represent you!
Have some strong values! Don Quixote would fight an army for his beloved one even if he had never seen her. Being faithful and fighting in her name was what interested him most and no matter what beautiful ladies he met, he never ceased to talk about her beauty. Our knight was also in pursuit of justice and could not see people suffering. He even attacks some dolls during an improvised show in order to make justice in the story.
Someone with a strong personality should always find some values to believe in even if he or she takes them from religion, moral law or just from their soul. It's a matter of making good decisions and treating the others correctly. Unfortunately we cannot be superheroes even if there are a lot of villains everywhere around us. However, every little thing we do can change the world.
Don't forget about your innocence! Don Quixote lived like a child seeing things just the way children do when playing. A flock of sheep was a great army, some windmills were terrible giants. An ugly servant girl with not so great moral values was one of the noblest ladies. So why not do something similar? Try to see the beauty and the good aspects of everything, try to become so optimistic that your friends will get mad! (Ok, maybe not that much). Transform your dull life by firstly working at your mind's level. Life was not meant to be dull, we make it like that, so go to parks, to funfairs, take a ride in a rollercoaster, go run with some friends and have a leaf fight! Have a hot coco in the evenings and watch a children's movie especially as the ones made nowadays are some truly something. Don't be ashamed and don't hide your inner child! We all miss being talked off for entering the house dirty.
Rediscover literature (if you haven't already). Don Quixote did not have many possibilities to read but he took advantage of everything he could find spending his entire fortune on volumes filled with the adventures of the greatest knights in the world.
Nowadays we have so many possibilities to enjoy literature that one can hardly resist. Nothing stimulates language development and imagination like reading does. Live with your favorite heroes, hold your breath when something bad happens to them and enjoy the end of a good book. Reading can help you see the world in another way as it shows you how others great thinkers used to see it before you. Fly to places you've never been before and strengthen your mind. This is how great ideas can come to your mind and proves to be one of the best pastimes ever invented by people. Get to know Don Quixote right from the source!
Don't let failure discourage you! When Don Quixote was defeated by another knight returned home saddened but no matter what happened he did not give up. One time he even decided to make a switch of plans and thought about becoming a shepherd together with his friend Sancho Panza. Until his end he kept his attitude positive.
So this is why you should remember that no matter how tough life can get there are always solutions and something good will happen in the end. If you feel like you've lost your direction then maybe there is another way. It's just like Columbus did: when asked to place an egg in balance on a knife's blade he hit it to it, thus cracking it. However, it was balanced. Maybe the solution to your problem is near. Or maybe a dramatic change is needed. Think it over: if being a shepherd brings your happiness then do it!
So in the end what do we have? A book, a man, a legend and a whole lot to learn from it.