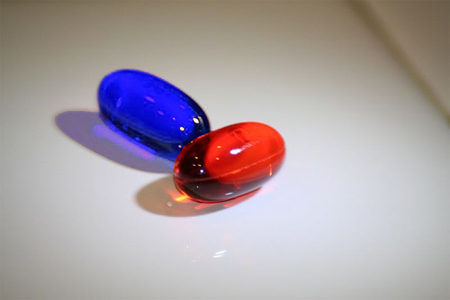 Now will you ever rest your head?
You end up feeling mostly dead,
Pretending you're the last one,
Hiding with your eyes shut tightly,
all the way to the hospital.
~The used~
I've recently found myself in the very unpleasant situation of spending quite some time in a hospital bed. As most of you must know, this can prove to be one of the must difficult moments in your life as there are a lot of things that can literally drive you insane. So this is why after getting here you must make a choice; we're going to picture it metaphorically. Let's say you can do 1 in 2 things: either take the blue pill, relax (as much as possible) and try to handle things as well as you can, being positive about it or take the red pill and just make everyone's life, including yours, harder. So learn to take the blue pill!
1. Optimism
The red pill- having a serious condition can prove to be challenging and difficult not to mention extremely unpleasant. It's very easy to become nervous and to get angry from virtually everything or even worse, to become depressed. So you can end up spending your time reproaching things to everyone including yourself or just counting the minutes until you can finally go home. Falling into a total apathy or becoming a shrew will help nobody so try not to fall into this trap no matter how easy it is.
The blue pill- Remember that you are there to receive treatment and to recover so in the end it's for your own sake. Keep in touch with friends and family and remember that they may feel even worse than you by knowing your situation. Keep them positive too by smiling, being active and telling funny stories about all the odd things you came across in the hospital: it does miracles! Always keep in mind the fact that soon you will be healthy again and try to fill your time so that you will not find yourself looking at your watch continuously. Keep your mind positive by reading, talking to the people around you or having short walks if possible.

2. Interacting with people
The red pill- suddenly finding yourself in the same room with other people and losing much of your intimacy can prove to be rather tricky especially as many can prove to have very unpleasant habits and reactions. You can end up easily having fights over nothing or you can just as well become isolated from them. Your neighbor eats all night long, some other one has a poor hygiene, one of the patients has noisy children who come visit way too often…As your patience is put to the test you will do nothing but to increase the gravity of your situation as everything will seem unbearable to you. You can keep the others awake so that you can read as a revenge, but that will do no good for anyone.
The blue pill– none of us is perfect and you may just as well annoy the others with your behavior. So learn to accept them and that might easily make the situation better. Usually people are very talkative in the hospitals mostly because they tend to be bored. Starting a conversation can be very easy. Talk about your family, work, whatever makes you feel good talking about. Sharing is also something that makes hospital life pleasant, however don't stare at your neighbor's cookies and don't try to convince a patient to eat something if he or she is on a diet- your good intentions might not turn out very well in this case. Respect the others and their condition and you will receive the same treatment. Giving a hand can also be great for your state of mind!

3. The doctors and the nurses
The red pill- as you don't seem to recover as fast as you would want to, you start making suggestions and giving all kinds of indications. Complaining all the time and asking for special attention won't work as you are not the only patient in the hospital. By making them stressed you will only make more problems and even if they are professionals they can easily become a little subjective when it comes to you. They are humans after all! Asking questions is very good but exaggerating and putting their knowledge to the test won't work. Also if you are not satisfied it's very easy to start gossiping and talking behind the doctors' back. But words can travel fast…
The blue pill- be polite, interested in your treatment and always ready to give a hand. A "Thank you!" from time to time is something that should become a personal rule to follow. Don't lie about your condition and follow the rules, there is a point for them! Whenever something is not clear ask- not everyone has thorough medical knowledge and it's not a shame to want to know more.
Either way, you should relax, as relaxing helps the body fight the disease and try to not make a tragedy out of it, as it helps you more than everyone else; when you are finally back home remember to take the blue pill from time to time- a good state of mind, politeness and better social skills can do nothing but to help you!